Cardboard and Wire Bird Sculptures
10 July 2019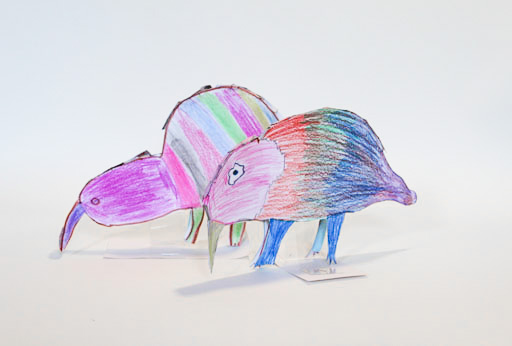 What is your favourite ground bird? Is it the naughty Brush Turkey, the Brown Quail or the Lyrebird? If you can't decide you can choose from our studio collection! You will begin by drawing your bird, investigating its body shape, legs, head and tail feathers. You will then transfer your drawings to soft wire mesh which will be cut and connected to form the under frame for your sculpture. You will then colour your drawing using coloured pencils and collage before cutting this out and glueing it to your wire frame to make fabulous bird sculptures!
All art materials supplied.
Sydney Art Space is now a registered Creative Kids provider!
Book into both morning and afternoon workshops held on the same day to use your Creative Kids Rebate. Booking with a valid Creative Kids Voucher for 10th July gives your child a full day of quality art workshops for an outlay of $10!
Free lunchtime supervision. Please pack lunch and extra healthy snacks if your child is with us the full day.
Full day workshop bookings are suitable for ages 8 – 11yrs.
Morning workshop details can be found here.
Bookings are not confirmed until your Creative Kids Voucher has been redeemed. Please allow 10 working days for confirmation, which is how long Service NSW can take to redeem vouchers.
Learn more about the Creative Kids Rebate here.
Waiting list: Please leave your details if you would like to be informed of openings for this class or if it runs again...