Contemporary Embroidery
23 & 24 January 2021
What you will learn
This two day workshop is an introduction into the world of creative embroidery. The workshop provides an opportunity to explore and experiment with many different embroidery techniques to create your own stitched artwork. Prepare to get busy, creative and innovative!
We will start by discussing the fabrics that we have and deciding where and what we are going to embroider into your composition. I will go with you step by step and help you to choose the best project and to place it in the right place on your fabric so it is visible to the world and doesn't wear out if you decide to embroider on your clothes. If embroidering onto a garment, I highly recommend to use a plain denim jacket, jeans or cotton shirt and avoid stretchy, knitted fabrics.
Day 1
Sketching the project as a composition, transferring it to the garment and choosing the color palette. We will be learning some simple techniques with which we can achieve many outcomes. In day 1 we will learn the running stitch, the back stitch, the french knot, the fly stitch and detached chain stitch. It will be a productive and very interesting day!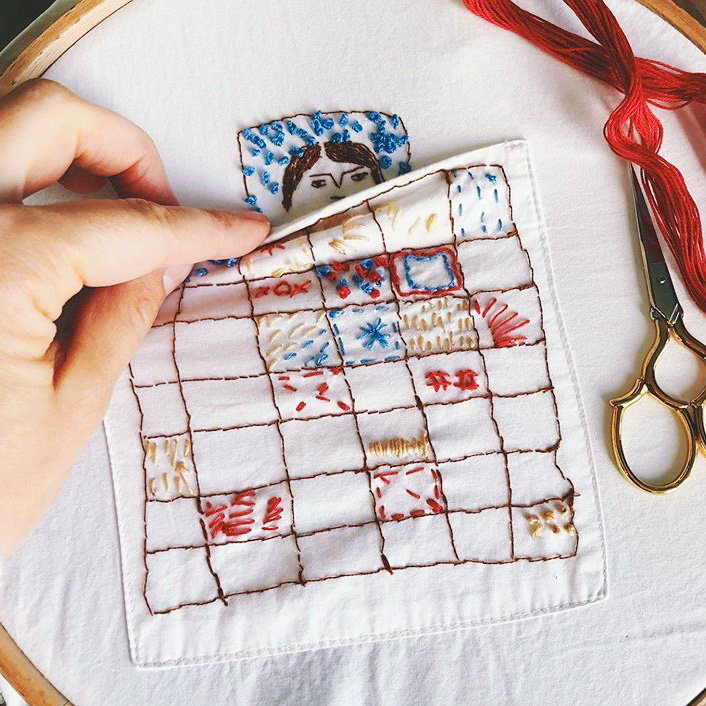 Day 2
Today we will be adding to and finishing your piece, looking more closely at detail as well as playing with texture. We can include sequins, beads and other items that you might have to make your piece unique and complete. We will also learn how to not overwork your composition and will discuss each participant's outcome.
Materials List
Please note Fenners Haberdashery at Mona Vale has all of the below items.
Thread: DMC thread – get about 3-5 colours to start. Choose the one you like but avoid getting metallic or shimmering colours for now. We will go over the colours and colour combinations in the first week and if you want you can always buy threads later.
Needles – embroidery needles ( for thin/cotton woven fabric) or chenille needles ( for thick/denim fabric).
Water-soluble stabilising fabric (optional). We will use it for our sketch.
Embroidery hoop – get an average size. Not too big and not too small. However if you decide to up-cycle your jeans get a smaller size hoop so it is comfortable to work in the jeans leg area.
Fabric pen
I mostly use embroidery for up-cycling my denim and if you want to use your own garment as a surface you are more then welcome to!
Here are few things to keep in mind:
Choose woven fabric. Denim and cotton woven fabric works best.
It is best to have fabric of one consistent colour – blue, dark blue, white, black.
Avoid garments with patterns. Avoid knitted fabrics.
It is better to choose the piece before you go shopping for threads. If your garment is dark, bright and light colours will work best. You can bring a few garments for the first session and I can help you to choose the best to work with.
You may choose to embroider one big piece on a denim jacket, or you might do few pieces on different garments, or maybe you will do your art piece on a simple cloth that can be framed later. The choice is yours!
You can find examples of my artwork at: Instagram: @olyaku