Kids Art Club
6-10 years old – Wednesday Afternoons – Term 1 2020
The creative act is so fundamental and classes provide an opportunity for children to connect with their innate creativity whilst having fun! During the term students will explore a range of techniques/materials focussing on building foundational skills whilst harnessing their own unique creative expression. Watercolour, ink, pencil, charcoal, clay and pastels will be amongst the materials used to build unique compositions. We will weave into our work the seasons, nature, dreams and story as we draw inspiration from life & imagination.
Please ensure your child brings:
Appropriate clothing or Art Apron to protect School Uniform (Spare Aprons will also be available)
Afternoon Tea / Snack & Water Bottle
What we will cover over the term:
WEEK 1. MY FAVOURITE THINGS – SELF PORTRAIT (Painting)
We will begin by drawing self portraits as a way to get to know each other and find out about the things we love! Children will be working with oil pastels and watercolour to create vibrant and unique paintings whilst learning about colour, composition and the use of narrative.
WEEK 2. BOTANICAL SUN PRINTING (Cyanotype Printing)
We will be exploring the beautiful wild flowers and grasses around us at the moment whilst learning the historic photographic/printmaking technique of Sun Printing. Children love this beautiful process which teaches photographic skills including exposure times, negative/positive space and much more! It is also a hands on way to explore the beautiful and organic shapes in nature.
WEEK 3. SUMMER FLOWERS (Chalk Pastels)
We will be exploring drawing fundamentals with pencils, charcoal and chalk pastels with focus on form, shading and blending techniques.
WEEK 4. CLAY LEAF PENDENTS & PINCH POTS (Clay Modelling)
Working with air dry clay we will follow on from our botanical sun printing and explore forming clay pinch pots and pendants using botanicals to press intricate patterns into the surface.
WEEK 5. CLAY LEAF PENDENTS & PINCH POTS (Clay Modelling)
Continuing on from the previous week we will painting and varnishing our dried clay creations ready to take home.
WEEK 6. FUN WITH CHARCOALS & INK
Using the natural shapes, themes and inspiration we have worked with from the previous weeks we will apply to charcoal and ink. Children will experience the beauty of these simple mediums whilst exploring shading, mark making, line and composition.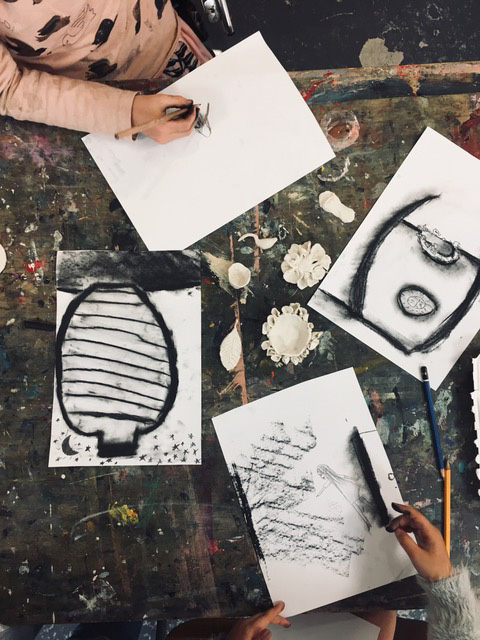 WEEK 7. NIGHT OWLS (painting)
Children will be drawing their beautiful owls and then creating luminous night owl paintings.
WEEK 8. THE NIGHT GARDEN – MAGICAL POP UP (3D Paper Modelling)
The children will create a whimsical night garden scene that will be displayed as a 3D pop up!
WEEK 9. WILD & WONDERFUL EGGS (Mono Printing)
We will be creating a range of beautiful original prints using a mono printing process. Children will draw into their printmaking plate, ink up and print a wonderful selection of decorative eggs designs.
WEEK 10. EASTER SURPRISE (Painting)
A fun activity to finish the term which the children adore! Using wax resist and watercolour we will be creating a surprise easter reveal.
Creative Kids Rebate
You can use a $100 Creative Kids Rebate Voucher if enrolling for a half or full term. To find out all about it and how to apply for your 2020 voucher please go to: www.service.nsw.gov.au/campaign/creative-kids
Please note:
You must enter coupon code 'CK' during checkout to receive the $100 discount, as well as separately entering your child's voucher number.
Please place multiple orders if you wish to use vouchers for more than one child.