NBCS Kids Art Club
8 Week Course – Term 1 2022
The creative act is fundamental in providing an opportunity for children to connect with their innate creativity whilst having fun! Join artist and arts educator Christine Simpson to explore a range of techniques/materials focusing on building foundational skills whilst children find and develop their creative expression. Watercolour, pencil, charcoal, clay and pastels will be among the materials used to build unique compositions. We will weave into our work the seasons, nature, dreams and story as we draw inspiration from life & imagination.
Week 1
Paul Cezanne Inspired Still Life
Children will look at some of artist Paul Cezanne's still life paintings to create their summer fruit inspired artworks.
Week 2
Succulent Gardens (Pastels and Charcoals)
Drawing inspiration from summer & succulents the children will create their lush secret gardens.
Week 3
Under the Sea (Drawing and Watercolours)
Using pencil and watercolours children will learn to create detailed compositions to paint their own under the sea scenes.
Week 4
Sea Anemones (Sculpture using Air-dry Clay)
Children will create a series of air dry clay anemones which they will decorate & paint the following week.
Week 5
Sea Anemones (Sculpture using Air-dry Clay)
Children will decorate & paint their clay pieces from the previous week.
Week 6
The Rockpool (Pastels)
Children will create their special rockpools after discussing what they may have seen there.
Week 7
Angels (pencil and watercolour)
Drawing angels from our imagination and then painting them with brilliant watercolours and collage.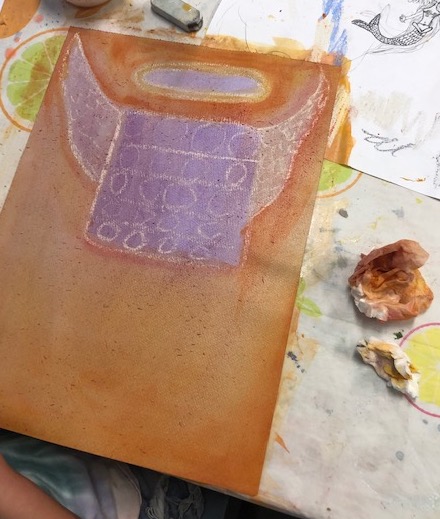 Week 8
Easter Rabbits (Collage and Pastels)
This week, children will make Easter Bunnies to celebrate the coming Easter.
Creative Kids Rebate
You can use a $100 Creative Kids Voucher for this course, please choose the appropriate enrolment option below and you will be asked for your child's voucher details during checkout.
To find out all about it and how to apply for your 2021 voucher please go to: www.service.nsw.gov.au/campaign/creative-kids