Painting Large Scale Watercolour Portraits with Cherry Hood
16, 17 & 18 April 2021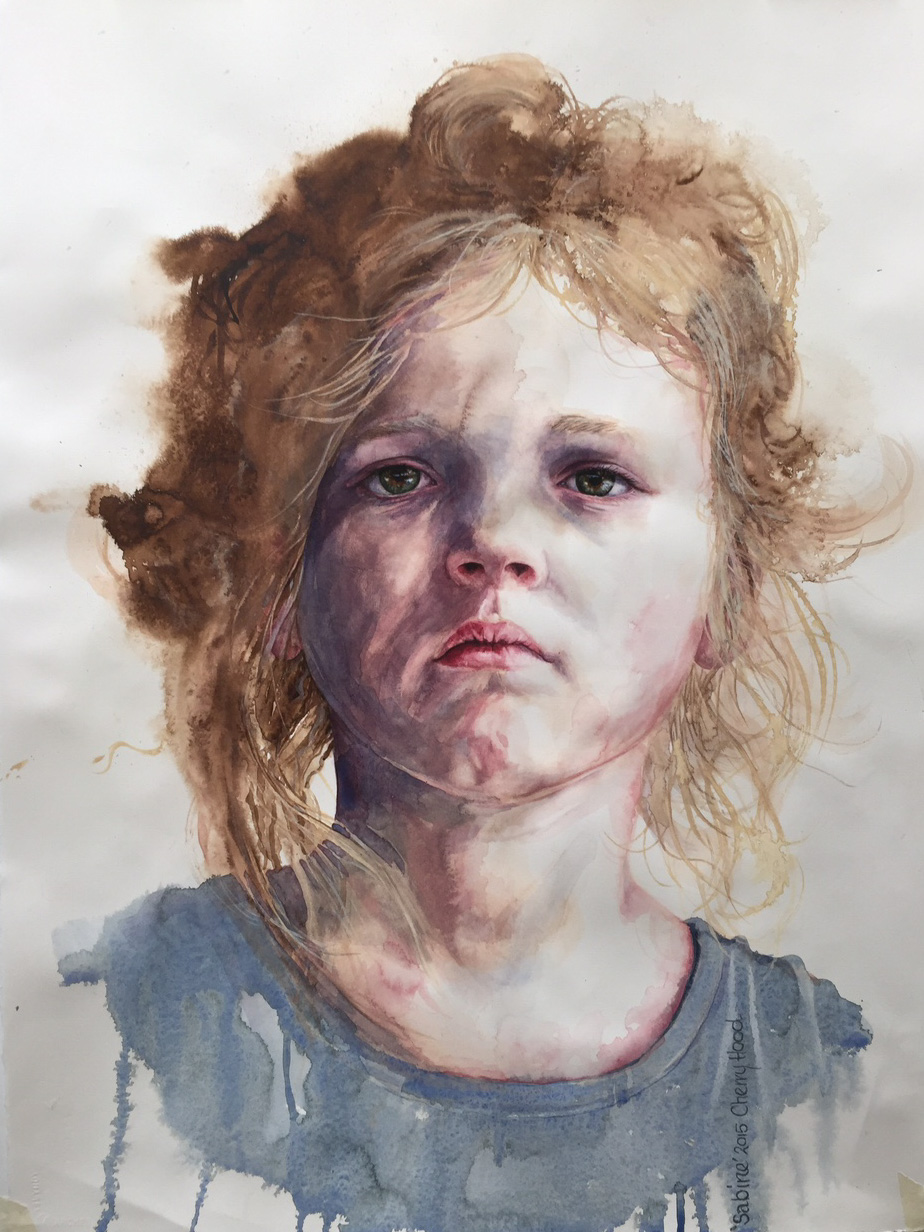 PLEASE NOTE THIS WORKSHOP HAS BEEN POSTPONED TILL 2022 DATES TBC
Join ARCHIBALD PRIZE WINNER Cherry Hood for this exceptional 3 day Watercolour Workshop where you will be taught prized techniques and methodologies from this established global artist.
Cherry Hood's international career has seen solo shows in New York, San Francisco, Los Angeles, Toronto, Vancouver and Zurich.
Following her Archibald Prize win in 2002 for a portrait of Simon Tedeschi 'unplugged', she won the Kedumba Drawing Award in 2003. Cherry subsequently had works hung in the Archibald Prize on six occasions. Amongst her portrait subjects are painters Matthys Gerber, Ben Quilty, Michael Zavros and pianist, David Helfgott. Her portrait of Tedeschi is one of relatively few Archibald winners in the collection of the National Portrait Gallery. Hood's works are in leading state, institutional, private and corporate collections around Australia and in public and private collections around the world.
Workshop Information
"To make a very good painting is a better goal than to make a great likeness." – Cherry Hood
For this three day workshop, established artist, Cherry Hood will demonstrate her unique method of drafting and painting a large scale watercolour painting of a face from a photograph. The artist's method teaches the proportions and relationships of all the facial features.
Friday will be spent on a demonstration and tutorial for drafting the face to show how, using a photo, via the artist's scaling and measuring techniques, students can draft a good likeness from their own images.
Saturday and Sunday participants will be developing their watercolour portraits. Cherry will advise and continue over the weekend to give painting demonstrations which combine to show in detail, the complete process she has developed to make her renowned paintings, with special short demonstrations of eyes, hair, nose, mouth as needed or requested.
While this is less of a portrait workshop than a painting workshop, the scaling up and drafting components will allow participants to get a very good likeness for Portraiture.
PHOTOGRAPHIC PRINT
Gerhardt Richter (in 1964-65) "The photograph is the most perfect picture, it does not change; it is absolute, and therefor autonomous, unconditional, devoid of style. Both in its way of informing and in what it informs of, it is my source."
ALL students need to bring an excellent enlarged print of the face they want to paint. This is an essential component of the workshop.
Prints must be at least A4 size with the subjects whole head about 25 cm high. Ideally the photo should show the whole face and some of the neck as well. The subject should not be grinning, or showing teeth. The photo must be very clear and sharp. We need to see every detail especially the eyes. Ideally every eyelash needs to be visible.
PLEASE NOTE: Cherry assists each participant with their individual needs and issues but she cannot help to perform miracles with an inadequate reference so neither can students. If their photo is substandard it's a huge handicap for the student. The reverse is true too. A wonderful photo can help students make a great painting.
PROJECTOR
These day very many artists use a projectors to shortcut the drafting process. Cherry will provide a projector to those students who wish to use it.
They will however need to bring a USB memory stick with their images on it.
Students of all levels usually achieve at least one very good painting by the second day of the workshop.
Cherry inspires students to really 'go for it!' with large brushes and very watery washes of paint. She demonstrates and encourages student to use loose painting techniques. She shows the pouring of washes from containers, dripping and moving the paint around the paper by tilting manipulating it.
Cherry encourages all kinds of methods other than the use of the paint brush!
She wants each student to grow in experience. This is a workshop aimed at encouraging students to make a fantastic, interesting and unique painting.
Please note this workshop would be excellent for HSC candidates using Watercolour Painting as the medium for their VAPD major work.
WORKBOOK
Cherry has written a 30 page Workbook to accompany The drafting tutorial. Her Workbook sets out the drafting method from start to finish with illustrations and instructions. Students can purchase this comprehensive Workbook from her for $25.
Materials for Workshops
Don't leave your material shopping to the last minute as most art supply stores do not keep good stocks of watercolour paint and usually have to order it in.
Please buy Winsor and Newton, other brands have different colours with the same names. My recipes work with W&N the program depends on them.
PAINT
Windsor and Newton brand
Large tubes: 14ml
Titanium White
Naples Yellow
Vandyke Brown.
Small Tubes: 5ml
Ultramarine Blue
Alizarin Crimson
Black (Carbon, Lamp or Mars)
Optional Extra colours in small 5ml tubes
Burnt Sienna
Prussian blue
PAPER
Arches Aquarelle 300gsm 760 x 570 mm. You can also use 640gsm paper if choose, but it very expensive. I do not use it anymore.
Medium or smooth, your choice. Medium is easiest.
Bring at least 3 sheets of watercolour paper for the workshop.
Don't bring: Printing paper, Chinese calligraphy paper or all-purpose paper.
NOTE: Make sure your Arches paper has 'Aquarelle' embossed on it.
PALETTE
A large white plastic palette with a lid is best. Art Basics have them for under $30.
CONTAINERS
One or two 2 litre or larger 2 litre water containers or bottles.
Bring at least half a dozen small flattish containers wide enough for your 5cm wide brush to easily fit in, Shallow takeaway containers with lids are perfect. You can buy 2-3cm high containers in Woolies and Coles.
We will be pouring different coloured paint which has been mixed up in these containers. Coloured plastics are not recommended as you can't see the colour you have mixed. And you can't see how dirty your water is.
If you are not flying you may want to take your left over washes home with you. Bring a few screw top jars.
PAPER TOWELS
Bring a couple of rolls of very absorbent paper towel my favourite brand is Handee.
These are not for cleaning up! Paper towel is a very necessary tool for this particular painting process.
BRUSHES
Be sure to bring several large SOFT FLAT nylon or synthetic brushes 2cm wide up to 5 wide. 6cm wide is too big.
Bring about 3 different sized ROUND Nylon brushes from fine for detail to very large for washes. 6 size is great for drafting.
Check when you buy them that they have plenty of spring back when wet and bent over and that they form a good sharp point or edge.
NOTE: Bring a one cm flat very stiff nylon/synthetic oil painting brush, for removing small fine areas of paint. These brushes are made for oil painting.
NOTE: Don't bring natural fibres, such as squirrel, or hogs hair.
SPRAY BOTTLE
You'll need a 500 ml plastic water spray bottle, ensure it can spray fairly finely. Bunnings have the best ones, only a few dollars, Coles have the worst ones.
MISCELLANEOUS
Ruler and waterproof Pen (medium – fine texta or laundry marker)
2 large sheets of cheap Bond or Cartridge paper or similar for making long thin strips of paper. A3 or bigger.
Pencil, scissors.
Small cheap watercolour pad or sheet of paper for checking colours.
Sticky tape or Magic tape.
Plastic sleeve if you can not laminate your photo.
A laminator can be purchased for about $30. They're extremely handy to have. We'll be using a lot of water so you reference image can easily be ruined. Bring two or get the image laminated.
NOTE: Magic Eraser from cleaning section of Coles or Woolies. These are small white cubes of a special foam or sponge.