Teens Art Club
11-15 years old – Term 2 2020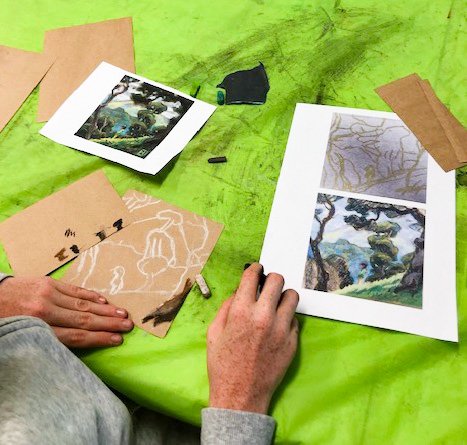 Join our fabulous artist and arts educator Eleanor Amiradaki as she guides you through a wonderful 5 week creative program.
During the term students will explore a range of techniques/materials focusing on building foundational skills in drawing, painting, collage, printmaking and modelling in clay whilst harnessing their own unique creative expression. We will draw inspiration from life & imaginations weaving in the seasons, nature, dreams and story. Participants will also get the chance to work on and develop their own projects from home.
CREATIVE KIDS REBATE APPLIES:
You can use a $100 Creative Kids Rebate Voucher if enrolling for 5 sessions. To find out all about it and how to apply for your 2020 voucher please go to: www.service.nsw.gov.au/transaction/apply-creative-kids-voucher
Please note:
You must enter coupon code 'CK' during checkout to receive the $100 discount, as well as separately entering your child's voucher number.
Please place multiple orders if you wish to use vouchers for more than one child.
Course Outline
WEEK 1. ARTIST STUDY – GEORGIA O'KEEFFE (Graphite & Charcoal)
Students will begin by taking their imaginations to New Mexico to get some insight into the work of Georgia O'Keeffe. They will be working in graphite and charcoal to create a series of preliminary works looking as form, shape and composition.
WEEK 2. ARTIST STUDY – O'KEEFFE CONTINUED (Chalk Pastels)
Students will be exploring their ideas and preliminary works from the previous week to create a final work using chalk pastels. The focus will be on blending, colour and resolving their concept.
WEEK 3. AUTUMN GARDEN (Watercolour)
Student will forage for inspiration in their gardens and draw from life. We will then move into working with watercolour learning various techniques to create our autumn garden.
WEEK 4. CLAY FLOWERS (Clay Sculpting)
Working with air dry clay we will shape beautiful repeat motifs of our beautiful botanicals from the previous week. We will also learn how to hand build a complete sculptural form using these elements we create.
WEEK 5. DREAMSCAPES (Oil Pastels)
Looking at the work of a few pertinent artists such as Marc Chagall we will be drawing whimsical dreamscapes using oils pastels which we will then go over with brushes to give a painterly feel.
(classes are subject to change)
MATERIALS LIST:
Nylon Brushes (please include a range of sizes)
Watercolours OR Tempera Poster paint set
Oil pastels (12 set minimum)
Chalk Pastels (12 set minimum)
A1 Cartridge paper (minimum A2 size)
Willow charcoal/graphite pencil/eraser/sharpener
Acrylic paints (to paint air dry clay work in between classes)
Air drying clay