Teens Art Club
Term 2 2021
Join our fabulous artist and arts tutor Christina Frank as she guides you through a wonderful 9 week creative program. During the term students will explore a range of techniques/materials focusing on building foundational skills in drawing, painting, collage, printmaking and modelling in clay whilst harnessing their own unique creative expression. We will draw inspiration from life & imaginations weaving in the seasons, nature, dreams and story. Participants will also get the chance to work on and develop their own projects from home.
Week 1
Drawing from Life: Our human body in action
Taking it in turns to draw each other, using pencil and charcoal and looking at the figurative drawings of other artists from history we will explore drawing the human body in action.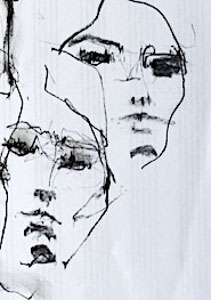 Week 2
Drawing from Life: Faces and Hands
We will focus on drawing faces and hands, observing each other and taking drawings by Leonardo Da Vinci as inspiration. We will draw, with charcoal and white soft pastel on a coloured background using Kraft paper emulating the Renaissance 'chiaroscuro' method of light and shade.
Week 3
'Aspects of myself' pot 1
We will look at British artist Grayson Perry who has created series of quirky decorated self portrait ceramic pots. We will make our own 'Aspects of Myself' pot starting this week by designing, then constructing the pot by building up coils rolled from paper clay and incorporating sculptural relief and carved surface treatment. This will be left to dry for a few weeks, painting it later in the term.
Week 4
Figurative Lino prints 1: draw and cut
Following on from the previous weeks exploration of drawing the human body we will design and draw a figurative motif, transfer it to a lino tile and start to cut the design.
Week 5
Figurative Lino prints 2: cut and print
We will finish cutting the lino tiles and then make prints from them.
Week 6
Your Choice: Painting a canvas 1
We will start this three week project to by developing and drawing an idea of your choice, then planning and transferring the idea onto a canvas, ready for painting next week.
Week 7
Your Choice: Painting a canvas 2
We will continue this three week project by starting to paint the canvas drawn and developed last week.
Week 8
Your Choice: Painting a canvas 3
We will complete this three week project by continuing to paint and finishing off this painting of your choice.
Sketch book
I intend that this course supports the students own creative journey. They should each bring a small sketch book with them, to record and develop their own ideas, dream up their own projects, and practice drawing. Sometimes in the process of art making there is waiting time, perhaps waiting for something to dry, or to take turns in using a particular process or piece of equipment. During these times the student can be using their sketch book.
Creative Kids Rebate
You can use a $100 Creative Kids Voucher if enrolling for a half or full term. To find out all about it and how to apply for your 2021 voucher please go to: www.service.nsw.gov.au/campaign/creative-kids
NOTE: When enrolling for a course or workshop please make sure you put the appropriate number of students enrolling in the enrolment box.