Teens Art Club
Term 3 2021
Join our fabulous artist and arts tutor Sue Richardson as she guides you through a wonderful creative program. During the term students will explore a range of techniques/materials focusing on building foundational skills in drawing, painting, printmaking and modelling in clay whilst harnessing their own unique creative expression. We will draw inspiration from life & imaginations weaving in the seasons, nature, dreams and story. Participants will also get the chance to work on and develop their own projects from home.
Please ensure your child brings:
Appropriate clothing or Art Apron to protect School Uniform
Afternoon Tea / Healthy snack & Water Bottle
THEME:
WINTER BEACH – DRAWING SCULPTING PRINTING PAINTING
Week 1
Drawing a still life using objects from the beach; shells, driftwood and seaweed. This initial composition can then be photographed on your mobile or tablet and an area may be selected to enlarge for further drawing investigation.
Week 2
Watercolour and mixed media work using ink, wax, masking fluid, gouache using still life objects from the winter beach, potentially developing some of the ideas from our week one exercise.
Week 3
Create a shell-like pot inspired by the sea, developing coiling clay hand building techniques used by the Hermannsburg Potters of Central Australia.
NOTE: This could also be a small shallow bowl with a design of the ocean painted or inscribed.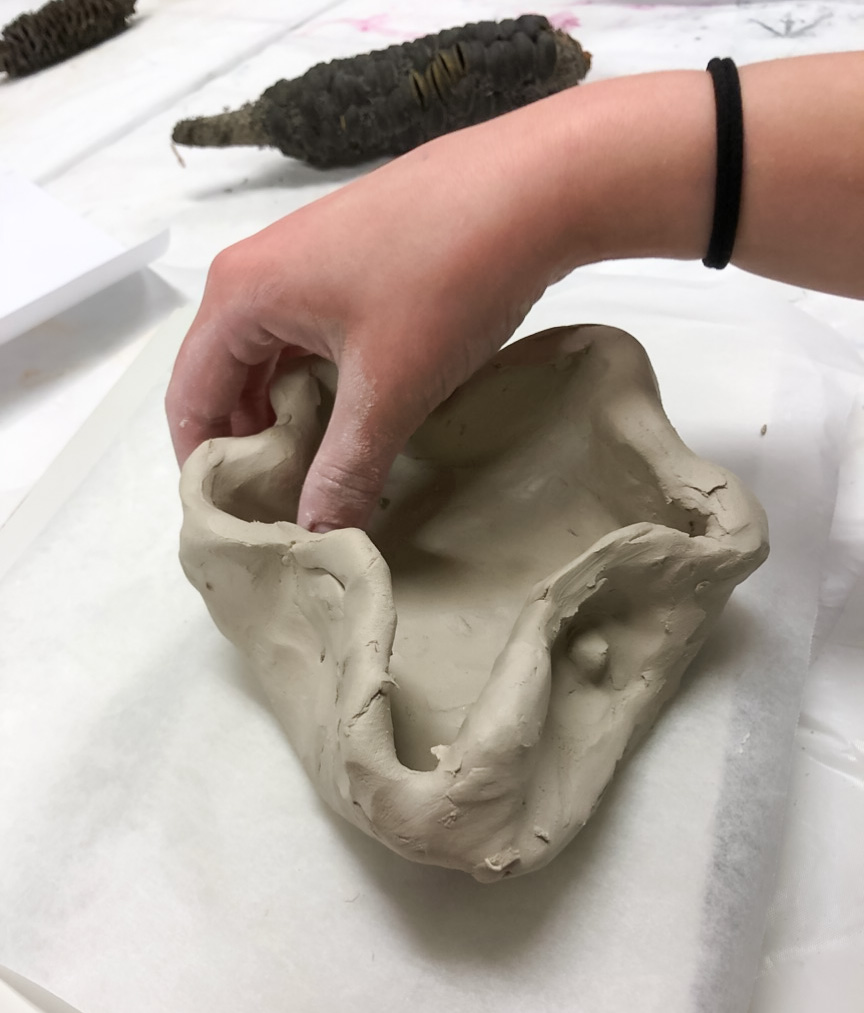 Week 4
Continuing to develop your art vessels inspired by the sea and the Hermannsburg potters.
Week 5
Lino block printing inspired by the echidna. This week we will learn how to transfer your drawings from paper to the lino tile, and skills development to begin to safely carve out your designs into the lino.
Week 6
Lino block printing continued: finishing our carving work into the lino tile and then moving onto printing techniques using paper.
Week 7
Canvas painting of winter sea objects using information and things learnt from your drawing and multi-media exercises to help develop your own unique compositions.
Week 8
Painting up your clay sea vessels and finishing your canvases to take home and enjoy.
Sketch book
I intend that this course supports the students own creative journey. They should each bring a small sketch book with them, to record and develop their own ideas, dream up their own projects, and practice drawing. Sometimes in the process of art making there is waiting time, perhaps waiting for something to dry, or to take turns in using a particular process or piece of equipment. During these times the student can be using their sketch book.
Creative Kids Rebate
You can use a $100 Creative Kids Voucher if enrolling for a half or full term. To find out all about it and how to apply for your 2021 voucher please go to: www.service.nsw.gov.au/campaign/creative-kids
NOTE: When enrolling for a course or workshop please make sure you put the appropriate number of students enrolling in the enrolment box.