Teens Art Club
Term 4 2021
Join our fabulous artist and arts tutor Christina Frank as she guides you through a wonderful creative program. During the term students will explore a range of techniques/materials focusing on building foundational skills in drawing, painting and modelling in clay whilst harnessing their own unique creative expression. We will draw inspiration from life & imaginations weaving in the seasons, nature, dreams and story. Participants will also get the chance to work on and develop their own projects from home.
Please note Term 4 Teens Art Club will be held online from the Sydney Art Space Studio via Zoom from 4.45pm-6.15pm on Wednesday afternoons for 7 sessions and the zoom link will be sent to you after your enrolment. Cost for the 7 week program and art pack is $375. For teens continuing from Term 3 they can continue to use their art packs and will need to only purchase clay for $15.
There will be an Art Pack to cover our Term 4 program. This can be picked up from Sydney Art Space prior to commencement of Week 1 Term 4 on Monday 18th October. For those enrolled from Term 3 you can continue to use your art pack and we will supply some more drawing paper and clay : ]
The art pack includes:
Acrylic paints, packet of oil pastels, drawing paper pad, set of paint brushes, 1 canvas, 1 charcoal stick, 1 graphite pencil, 1 eraser, air drying clay, wooden skewers, plastic plates.
THEME TERM 4
CELEBRATING THE BUSH IN SPRING – Wildflowers, Gum leaves and Bush Birds
Week 1 – Oct 20
Wildflowers 1
Observe our wildflowers by first drawing and then painting with watercolour. We will look at the beautiful water coloured wood blocks of Cressida Campbell, particularly her Flannel Flowers.
Week 2 – Oct 27
Wildflowers 2
We will look at Wildflower paintings by Margaret Preston and create our own artwork using acrylic paint and oil pastels on canvas.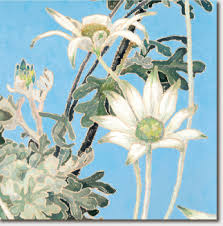 Week 3 – Nov 3
Gum Leaves 1
Collecting gum leaves from around your neighbourhood we will observe their unique variations, colour and fine detail, making drawings using pencil.
Week 4 – Nov 10
Gum leaves 2
Stamping and stencilling collected gum leaves, we will explore monoprinting creating layered artworks with acrylic paint in bush colours.
Week 5 – Nov 17
Bush Birds 1
Using charcoal we will draw a range of bush birds, large and small. We will make preparatory sketches for making a clay magpie next week.
Week 6 – Nov 24
Bush Birds 2
With black and white clay we will start to make a magpie sculpture
Week 7 – Dec 1
Bush Birds 3
We will refine and finish off our magpie sculpture.
Sketch book
I intend that this course supports the students own creative journey. They should each bring a small sketch book with them, to record and develop their own ideas, dream up their own projects, and practice drawing. Sometimes in the process of art making there is waiting time, perhaps waiting for something to dry, or to take turns in using a particular process or piece of equipment. During these times the student can be using their sketch book.
Creative Kids Rebate
You can use a $100 Creative Kids Voucher if enrolling for a half or full term. To find out all about it and how to apply for your 2021 voucher please go to: www.service.nsw.gov.au/campaign/creative-kids
NOTE: When enrolling for a course or workshop please make sure you put the appropriate number of students enrolling in the enrolment box.