NBCS Teens Art Club
7 Week Course – Term 3 2021
Join our fabulous artist and arts tutor Christina Frank as she guides you through a wonderful 7 week creative program. During the term students will explore a range of techniques/materials focusing on building foundational skills in drawing, painting, collage and modelling in clay whilst harnessing their own unique creative expression. We will draw inspiration from life & imaginations weaving in the seasons, nature, dreams and story. Participants will also get the chance to work on and develop their own projects from home.
Please note Term 3 Teens Art Club will be held online from the Sydney Art Space Studio via Zoom from 3.30pm-5.00pm and the zoom link will be sent to you after your enrolment.
There will be the option to buy an Art Pack to cover our Term 3 program for $60 which you will find in your enrolment options below. This can be picked up from NBCS on Friday 16th July. If you have the art materials already and don't require an art pack please let us know upon enrolment.
The art pack includes:
Watercolour paints, watercolour pad, acrylic paints, packet of oil pastels, drawing paper pad, set of paint brushes, 1 canvas, 1 charcoal stick, 1 graphite pencil, 1 eraser, air drying clay, wooden skewers, plastic plates, calico carry bag.
Theme:
Winter Beach – Drawing, Photography, Sculpting and Painting
Week 1
Drawing of a still life of objects from the beach; shells, driftwood and seaweed. This initial composition can then be photographed on your mobile or tablet and an area may be selected to enlarge for further drawing investigation.
Week 2
Watercolour and mixed media work using oil pastels and charcoal inspired by your composition from Week 1 still life objects from the beach.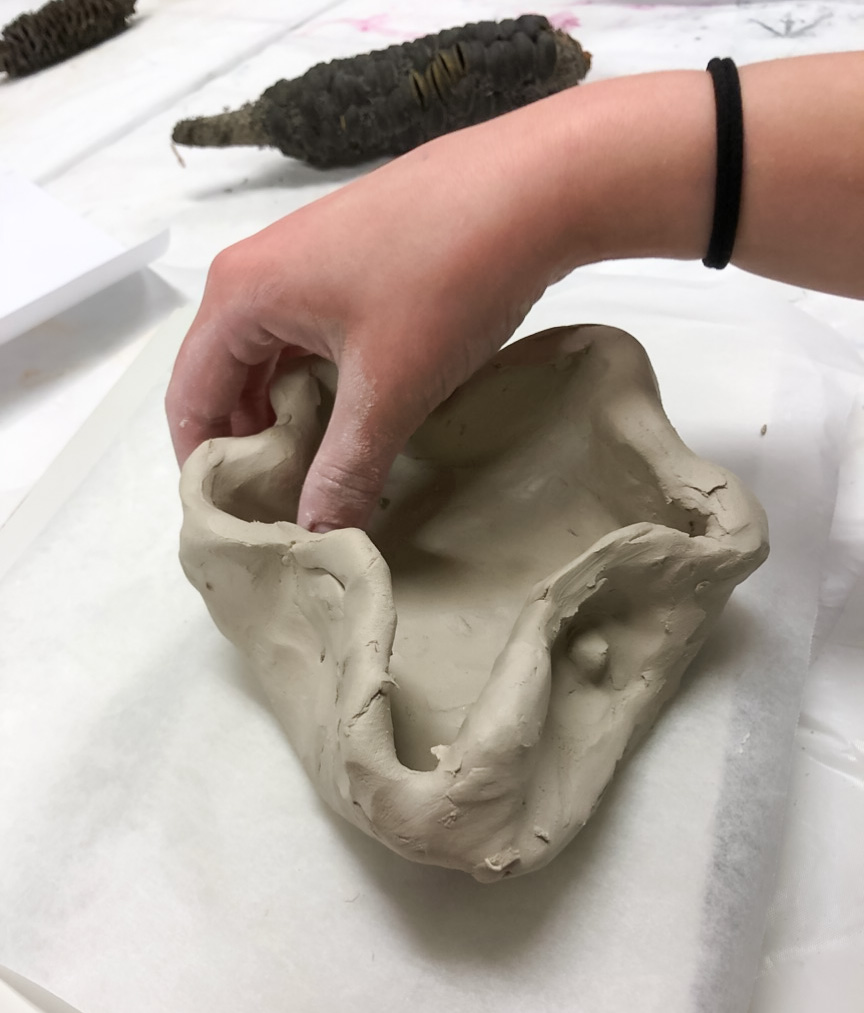 Week 3
Create a shell-like pot inspired by the sea developing clay hand building techniques used by the Hermannsburg Potters of Central Australia.
Or this could also be a small shallow bowl with a design of the ocean painted or inscribed.
Week 4
Continuing to develop our art vessels inspired by the sea and the Hermannsburg potters.
Week 5
Canvas painting of winter sea objects using information and things learnt from our drawing and multi-media exercises to begin developing your own unique composition.
Week 6
Continuing to develop your canvas painting composition of winter sea objects investigating light, shade, background and foreground.
Week 7
Painting up your sea vessels using acrylics to take home and enjoy.
Sketchbook
I intend that this course supports and encourages the students' own creative journey. Bring a small sketchbook with them, to record and develop their own ideas, dream up their own projects, and practice drawing. Sometimes in the process of artmaking there is waiting time, perhaps waiting for something to dry, or to take turns in using a particular process or piece of equipment. During these times the student can be using their sketchbook.
Creative Kids Rebate
You can use a $100 Creative Kids Voucher for this course, please choose the appropriate enrolment option below and you will be asked for your child's voucher details during checkout.
To find out all about it and how to apply for your 2021 voucher please go to: www.service.nsw.gov.au/campaign/creative-kids